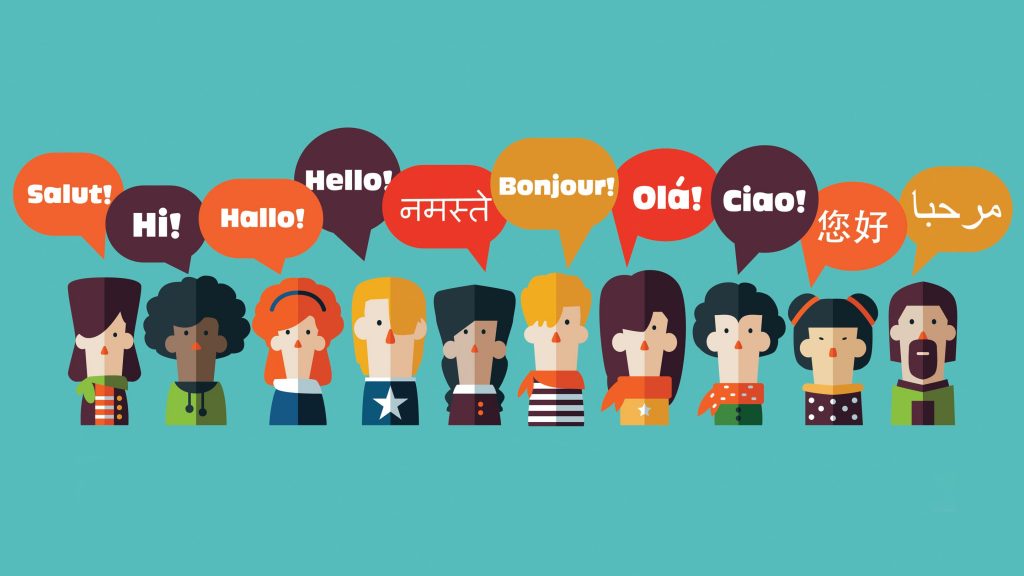 GENERAL COURSE.
This course is for those who want to learn basic skills: know how to listen, write, speak, understand a foreign language, watch a movie in the original language. To do this, during the lesson you speak with the teacher in the foreign language, you pay attention to grammar and pronunciation and expand your vocabulary. The course is divided into the following levels:
– Beginner: You start from scratch and you can learn to build simple sentences and expand your initial vocabulary.
– Elementary: If you have a basic knowledge this level is for you. You will learn grammar and vocabulary.
– Intermediate: If you can keep a conversation, then you can choose this level. More complex grammar development and vocabulary expansion will be performed.
– Advanced Intermediate: If you can safely communicate on general issues, formulate your thoughts and want to bring these skills to perfection, you should choose this course. It converges grammar, enriches the vocabulary of synonyms and opposites, learns the stylistic distinction of words and expressions.
– Advanced: You can easily communicate but sometimes you have difficulty especially when communicating with native speakers or watching movies in your native language. This course will help you perfectly express your thoughts in a foreign language using a variety of grammatical terms and expressions.
Specifies the course you want during the compilation of the application for a test lesson. In any case, at the test lesson, the teacher can clearly tell you which course will be advisable for you.
COMMERCIAL.
This course is designed for those who have studied a foreign language and who must speak in a foreign language for work. Our teachers will help you communicate easily and relate to foreign clients and partners. This will make your business grow. You just need explain to your teacher your business including sales, economy, marketing, internet space and so on. During the lesson the following situations will be discussed:
How to make an appointment and organize business / travel meetings.
The conduction of the negotiations both live and via telephone.
Presentations.
Working in / for a foreign company
FOR CHILDREN.
Our teachers have a lot of experience with students of all ages: tailored lessons according to the age group of children. For a parent it is not easy to find a right teacher
for your child and it is very often difficult to find a class in the language school, bring the child to the teacher or host a tutor at home. Skype lessons are the right solution for you. Additionally, children are more willing to study on a computer than a simple desk.
We can help your child: with homework, deepening his / her schooling skills, teaching him a foreign language from scratch (second / third language), preparing for international examinations for a foreign study, preparing for specific and customizable examinations.
PREPARATION FOR EXAMINATIONS.
If you need to pass international exams, school examinations or college exams, our experienced teachers will help you understand all the details of the case, they will assist you in fully examining how to pass the exam, what are the requirements to pass the exam, how to prepare for the examinations, how to distribute your time wisely in order to finish the assignments. You will learn all the required standards from the topic to the summary and work with examples from previous years. We can help in preparing for the following exams:
– School and university exams
– English (IELTS, TOEFL, FCE, CAE)
– German (ZD, ZMP, ZOP, KDS, GDS)
– French (DALF, DELF)
– Italian (CILS, PLIDA)
– Spanish (DELE)
And others.
FOR TRAVELLING
If you want to learn a foreign language to communicate on a trip abroad, this course is for you. Our teachers will help you overcome the language barrier, prepare you and adapt to multicultural communication. The main themes of this course are:
Meeting people, Hotel reservations / tickets,
In the airport, hotel, railway station, restaurant etc.
Shopping, Excursions
HOW TO IMPROVE YOUR GERMAN VIA SKYPE?
It has become much easier to learn German with a native speaker. You can do it comfortably from home in your spare time. Thanks to our online school you can do individual German lessons with a mother tongue teacher via skype. Choose here the most appropriate German language course for you, book the free trial lesson, proceed with the Paypal payment and start studying German in the easiest and most comfortable way! We offer individual German courses with mother tongue tailor made for anyone, for any level. German general course, German business course, German exam preparation, German course for traveling. The lesson schedule is set according to your availability and your needs.
GERMAN FOR WORK.
For those who need to use German in the professional field, our Skype course allows you to quickly and effectively expand the language skills required for your work environment by learning typical cultural customs. German for various sectors including: economy, medicine, tourism, administration or engineering: via Skype you will learn how to use German properly in your work life.
LEARN RUSSIAN VIA SKYPE.
For students, employees, traders or anyone who is passionate about the Russian language and culture, it has become easier to learn Russian via Skype. If you start from scratch with our native Russian teachers, you will be able to learn the Russian alphabet, the useful vocabulary for everyday communication and the grammatical basis of Russian. If you already have an elementary level of Russian language knowledge you can expand your vocabulary, deepen your grammar skills, learn different ways of saying in Russian, and overcome the language barrier. We also offer exam preparation courses to obtain the TRKI certificate. Our teachers are able to prepare students of all levels.